Top 10 ancient towns and villages in China (5)
9. Zhujiajiao on the outskirts of Shanghai
Zhujiajiao, which means "Zhu Family Settlement", is an ancient town located in the Qingpu District of Shanghai, and it is characteristic of the many water towns in the upper reach of the Yangtze River. Zhujiajiao is an ancient (formed about 1,700 years old) water township that some call the "Venice of Shanghai". 36 unique wood and stone bridges and numerous rivers line Zhujiajiao, and thousands of ancient buildings still line the riverbanks today. Many centuries-old stone buildings are home to residents today, as they were for many dynasties in the past. Holding an oiled paper umbrella in the rain, you walk in the long and narrow lanes paved with green flags. That kind of happiness with slightly sadness is what you only experience in person.



10. Dali in the western part of Southwest China's Yunnan Province
Dali Ancient City, or the ancient town of Dali, was set up in 1383 in the Ming Dynasty. It has a history of more than 600 years. This ancient city was once a vital communications hub where the population was dense. Many trade caravans gathered here and the markets were prosperous. On both sides of the street, there were numerous shops, inns, tea houses and restaurants, very bustling and exciting. Now, Dali is the economic and cultural center of the Dali Bai Autonomous Prefecture and one of the most beautiful and relaxing places in China. The area is surrounded by mountains. Here you will find 25 ethnic minorities, which have created a unique cultural heritage amidst the area's picturesque surroundings. The local government has given high priority to its preservation. So Dali Ancient City still remains its original looks. Now, the shops here mainly sell some locally-made handicraft articles: marble products, straw weaving wares, embroideries, wax printing clothes and other ornaments. Small retailers also sell some antiques, ancient paintings, old coins and silver wares.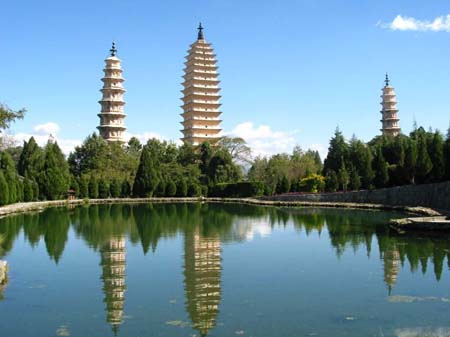 Source: China.org.cns