Great Wall Helicopter Ride
Helicopter type: Eurocopter AS350B3
Days of operation: Monday to Sunday, reservations required (to be booked a minimum of 3 days in advance)

Price Reference: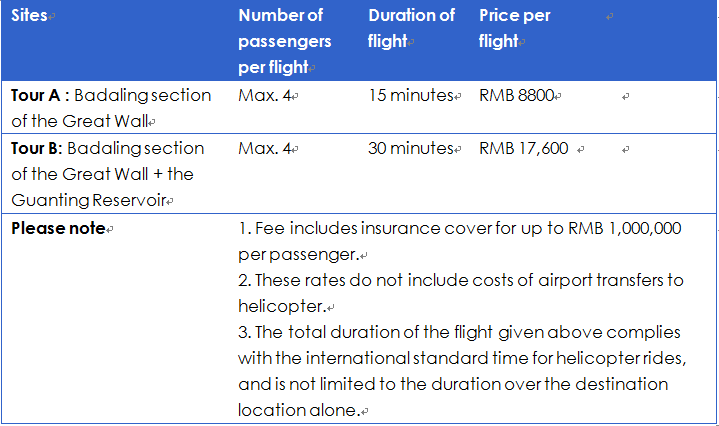 View of Badaling, the Great Wall Waiting hall
Itinerary Options

Tour A – 15 minutes – Badaling section of the Great Wall



Tour B: 30 minutes – Guanting Reserviour – Kangxi Grassland – Badaling section of the Great Wall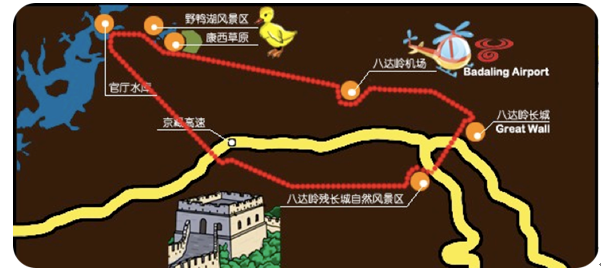 Tour C: 1 hour – All regions – Guanting Reservoir, Kangxi Grassland, Badaling section of the Great Wall


Remarks:
1、Be sure to 40 minutes before scheduled departure time arrived at the designated airport check-in. If you can not check-in on the specified time, there may not be boarding.
2、People required to produce a valid passport or a copy.
3、Prohibited to take the inflammable article easy to explode on board.
4、Prohibited to take weapons and other dangerous items on board.
5、Camera and video to be labeled anti-flash before boarding (in case affected the pilot's control).
6、During flight, prohibited peeled off anti-glare film for photography without permission.
7、Prohibited to take photograph in front of the helicopter strictly before boarding until the plane took off before beginning photography, and fasten your seat belts.
8、Obey the instructions of airport service personnel, prohibit do any activities outside the specified region.
9、For propeller in rotation, be careful not to close the head or tail of helicoper, boarding within the specified channel.
10、Airfoil whirling will produce strong winds, the passengers should pay attention to your hats and scarves, ladies pay attention to skirt.
11、Passengers should pay attention to your head and foot for security when boarding.
12、when boarding, service personnel will designated seats, please follow arrangements.
13、To ensure security, please fasten your seat belt immediately after boarding until the plane landing.
14、Passengers aboard the helicopter model can not be specified.
15、In the cabin of helicopter can not touch any power switch and the door handle in order to ensure flight safety.
16、After the flight, visitors can take photos in front of the helicopter, but the photos only can shoot by the airport staff.